Master Electricians is the professional trade organisation for electrical contracting businesses in New Zealand. Our membership is made up of over 1270 businesses across the country who we actively support and advocate for.
As New Zealand's only electrical contracting trade organisation, we communicate with government, regulatory bodies, industry stakeholders and the public over a wide range of topics specific to the industry. We also collaborate with our fellow trade membership organisations to band together to work with government and other regulatory organisations on the critical issues in the construction industry.
We offer business advice as well as discount offerings, striving to see our new membership increase. Our passion is to help our member businesses succeed and grow.
With the support of our future plans, Regional Managers based around the country, and new initiatives always in the works there is great scope for growth in the coming years. We are finding new ways of engaging businesses which, in turn, sparks great interest in what else we can offer. Our focus will remain centred on ensuring that we are relevant to the new business owner and making sure that being a member of Master Electricians is always front of mind.
Members operating under our Master Electricians brand can safeguard the quality of their workmanship, providing extra assurance to customers.
Master Electricians' legal name is Electrical Contractors Association of New Zealand but now wholly operates under the Master Electricians brand.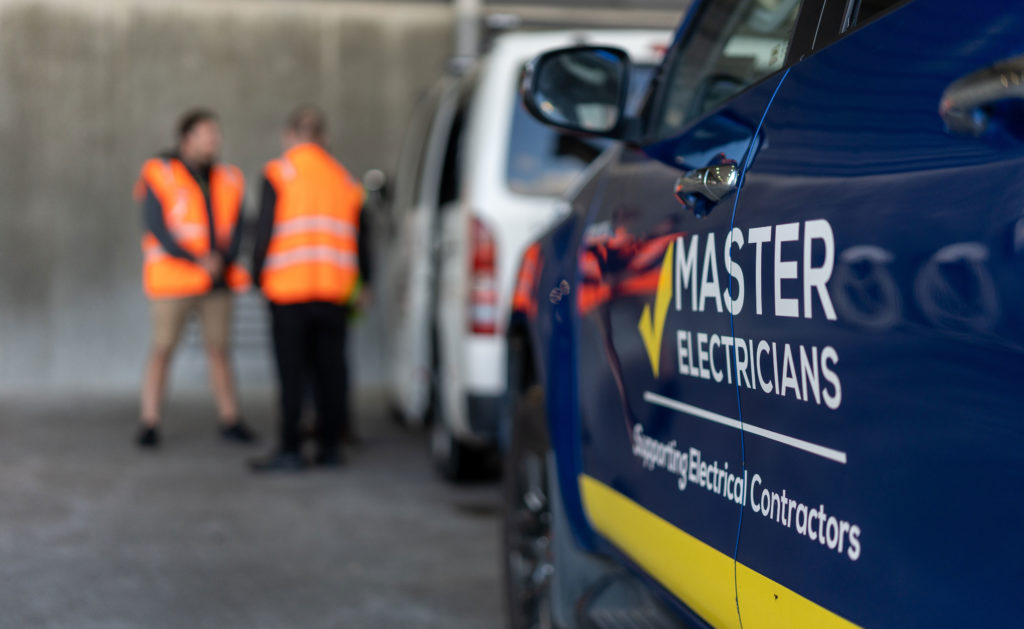 Industry representation
Master Electricians provides a voice for its members where it sees opportunities to advocate for change.
It's our job to keep up to date with what's happening in the industry on behalf of our members. We work with government agencies, non-government organisations and training providers to make a difference for our members and the electrical contracting industry.
Representation ranges from joining social media campaigns about sub-standard products, to commenting, consulting and participating in formal submissions to Parliament for changes in acts or regulations.
We constantly monitor relevant standards and regulations, reporting back on changes and providing support and resources where necessary. Master Electricians members give up their time to sit on standards sub-committees.
Who we work with
We work with a range of industry and trade-related organisations to make submissions and develop resources. We take the lead, provide input or collaborate with others, depending on the topic.
Recently, Master Electricians and Master Plumbers have been working with government on behalf of the electrical and plumbing contracting sector, suggesting ways the Construction Contracts Act can better reflect the changing nature of the construction industry. This resulted in the passing of the Construction Contracts (Retention Money) Amendment Act, which provides much-needed financial protections for sub-contractors' retention money – ensuring they're paid out even if the head contractor fails.
Our structure
Master Electricians consists of the Board of Directors, National Presidents Advisory Forum and ten branches nationwide. Day-to-day operations are managed from the National Office based in Wellington, with support from four Regional Managers.
The Board has responsibility for the corporate governance and organisational direction of Master Electricians. Its comprises of six members and the majority of directors are nominated and elected from the Master Electricians membership by branches, with independent directors appointed by the Board.
Our rules
Master Electricians is governed by the rules of its incorporated society, the Electrical Contractors Association of New Zealand (ECANZ).
Our History
Origins
The origins of Master Electricians dates back as far as 1925, when the New Zealand Electrical Federation (NZEF) met regularly with the New Zealand Electrical Wholesalers' Federation. These federations discussed common matters that affected both the electrical contracting and wholesaling industries.
By 1933, local branch member associations could see that the changing electrical industry meant that electrical contractors and wholesalers needed to align themselves to best address the needs of all participants.
The NZEF was disbanded to create a new, more inclusive federation to encourage greater industry participation – the New Zealand Electrical Traders' Federation.
Mid-1940s to mid-1960s
Many changes occurred from the mid-1940s to the mid-1960s, including new rules and the name reverting to the New Zealand Electrical Federation in 1946. This federation consisted of membership from Auckland, Wellington, Canterbury and Otago contractor associations, as well as Auckland and Wellington wholesaler associations.
Over time, differences emerged between the groups within the NZEF and the alignment ceased around 1957, when contracting associations met independently and formed the New Zealand Electrical Contractors Association. Two years later, it became the New Zealand Electrical Contractors Federation Incorporated (NZECF).
By 1965, Waikato and South Canterbury contracting associations were the last to enter the organisation, bringing the total association branches to 10.
A move to greater professionalism
As the aspirations of the NZECF members grew, the need to advocate on their behalf and the need for greater professionalism became stronger through the 1960s and 1970s.
Three key contributions to the organisation's development were issuing a price book, working with the industrial union for workers and, in 1970, creating a National Office and employing a professional executive director.
Price Book
The NZECF Price Book was first published and sold to members in 1962. It collated price details from manufacturers and wholesalers for all electrical products into a comprehensive and easy to use format. Prices were regularly updated as information was received, and monthly amendments were sent to members.
The Price Book provided a basis for negotiation of price variations and was available on application to professions, such as architects, consulting engineers and surveyors. The Price Book continued to be maintained and published well into the 1980s, providing a worthwhile and valued service.
Industrial union
In 1963, the NZECF applied to become an industrial union – the New Zealand Registered Electrical Contractors Industrial Union of Employers. It proposed a separate New Zealand Electrical Contracting Industry Award, in addition to the existing award for electrical workers. However, no further progress was made until 1970, when an Electrical Contracting Industry Award was negotiated.
The advent of the Employment Contracts Act in 1991 substantially changed the way that employees and employers negotiated and contracted with one another. As union membership diminished, so did the relevance of an industrial union.
From ECANZ to Master Electricians
A comprehensive review of the organisation in 1986 proposed to form one national body. The proposal was accepted, and in 1988 the NZECF became the Electrical Contractors Association of New Zealand (ECANZ).
The industry and the Association have evolved over time, and in 2015 ECANZ rebranded its name to Master Electricians to better reflect the professional standards and recognition that membership offers.
Electrical Training Company
The Electrical Training Company (etco) was formed in 1991 by ECANZ and the union to maintain apprenticeships in the industry.
As of 1 April 2023, Master Electricians sold Etco to Skills Consulting Group to support the creation of a new Specialist Trades Construction School within the Skills network. Alongside Etco within the Specialist Trades Construction School will be existing Skills providers Industry Connection for Excellence (ICE) and e-tec, a specialist electronics for industry training provider. ME will hold a strategic, cornerstone 30% shareholding in the Specialist Construction Trades School.
More about Master Electricians